Roll Off Dumpster Rental in Athens, GA
Hello and welcome to the online home of Reliable Dumpsters, serving residential, commercial and construction site clients throughout the Athens, Georgia area. If you've got tons of waste to dispose of and need a dumpster to do it: we can help.
Why Choose Reliable Dumpsters?
Our customers love working with us for two main reasons: honest pricing and great service. Our team has many years of experience working with all manner of waste disposal jobs; whether it's a dozen dumpsters for a massive construction site or a single dumpster for a home renovation, Reliable Dumpsters is able to help. When you're ready to book your roll off dumpster or if you have questions about the dumpster rental process, contact us at your convenience at (706) 623-5802 and we'll be happy to help.
Athens Dumpster Rental for the Home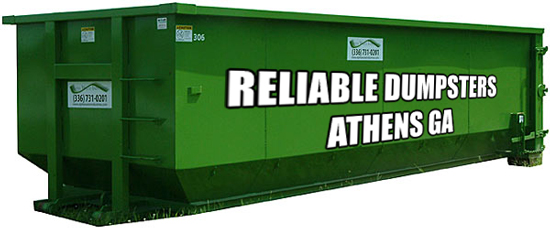 When there are high levels of waste to be disposed of around the house, there's nothing more convenient than a dumpster. Reliable Dumpsters will deliver a perfectly-sized roll off dumpster straight to your driveway or doorstep so that your renovation project or spring cleaning isn't help up due to the waste.
We offer dumpsters in a range of sizes that are suitable for any purpose. If you're simply removing a large stump or have a bedroom's worth of junk that needs to be tossed away, a smaller ten or fifteen cubic yard dumpster will likely be sufficient. On the other hand, if you're undergoing major home renovations such as installing a new roof or re-doing the siding, you'll need something larger like a forty yard bin.
Don't waste your time lugging all of your trash and waste to the dump in your family vehicle! With a quick call to Reliable Dumpsters at (706) 623-5802 you can have a dumpster in your driveway as soon as you need it.
Commercial and Retail Roll Off Dumpsters in Athens
Retail stores and commercial enterprises work with Reliable Dumpsters during major cleanups ? such as after Black Friday or the Christmas shopping rush ? and during renovations when significant amounts of construction waste are being generated. The team here at Reliable Dumpsters is happy to help determine how many dumpsters will be needed for your job and with our excellent pricing we're sure to be able to get you what you need without breaking your budget. Call us today at (706) 623-5802 for more information or to get booked in for delivery.
Reliable Dumpsters also works with construction sites throughout Athens, delivering and servicing as many dumpsters as are needed to keep the site clean and free of waste. Our massive forty yard steel bins are capable of holding many tons of waste, and we can deliver as many as your company needs to adequately service the site.
If you're holding a special event in the Athens area and need waste disposal facilities, give us a call. The team here at Reliable Dumpsters is experienced at working with event venues of all sizes, and our dumpsters are suitable for waste, cardboard and recyclables.
When you're ready to start planning your special event or ready to break ground on that next construction project, Reliable Dumpsters will be here to help. Call us today at (706) 623-5802 and let's chat about your project!
Call Today for a Free Price Quote
Here at Reliable Dumpsters we believe that every one of our clients should have the opportunity to know what a dumpster rental will cost before they sign on the dotted line. To get a free price quote for your project and to find out more about roll off dumpster rentals here in Athens you can give us a call at (706) 623-5802 or leave a quick message via the contact form at the top right of this page and one of our staff members will be in touch promptly.
Thanks again for choosing Reliable Dumpsters for your dumpster rental needs in Athens, GA!