Roll Off Dumpster Rental in Ann Arbor, MI
Welcome to the online home of Reliable Dumpsters, a nationwide roll off dumpster rental and delivery service provider with a local presence here in the beautiful city of Ann Arbor, Michigan. We're proud to service residential, commercial and construction clients of all sizes ? no matter what your waste disposal needs might be. When you've got more trash and waste than you know what to do with, Reliable Dumpsters is the team to call!
Why Choose Reliable Dumpsters?
Here at Reliable Dumpsters our focus is offering the best possible dumpster rental experience, both from a pricing and a customer service perspective. We know that dumpster rental might not be the sexiest industry to be in, but when you need a dumpster you'll want one delivered quickly at a price that won't break the bank, and that's where we can help.
Call Reliable Dumpsters today with any questions or to get booked in for delivery. You can reach us at your convenience at 800-658-3639 where one of our dumpster rental experts will be ready to answer your questions and share some tips on how to get the most out of your dumpster rental. We look forward to speaking with you!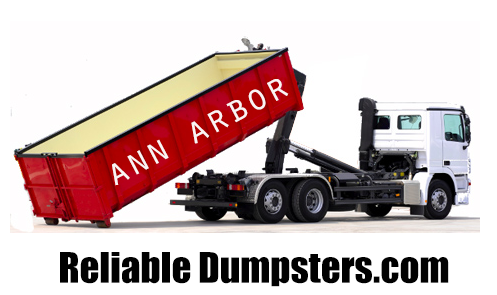 Ann Arbor Dumpster Rental for the Home
When you're hard at work on home renovations or a major cleanup there are few things more convenient than having a roll off dumpster right in your driveway. Forget having to load up the family pickup with all sorts of trash and then hauling it to the landfill; with one call to Reliable Dumpsters you can have a roll off dumpster delivered that will take everything you can throw at it. Once you're finished, we'll be back to pick up your dumpster and that's the last you'll see of all of that trash.
Reliable Dumpsters can even set up your block or building with a roll off dumpster that can be shared by everyone who lives near it. Give us a call for more information!
Commercial and Retail Roll Off Dumpsters in Ann Arbor
Reliable Dumpsters is an experienced partner to businesses in the Ann Arbor area who need dumpster services on a one-off or regular basis. If you're noticing that the employees in your stock room or warehouse are starting to become buried under cardboard, trash and recyclables, it's time to give Reliable Dumpsters a call. We'll have a roll off dumpster delivered straight to your business so you can get rid of all that extra trash.
We also work with construction, demolition and other contracting firms to supply roll off dumpsters for work sites of every size. Whether you're building Ann Arbor's latest office building or just knocking down an old house, Reliable Dumpsters will deliver rock-solid roll off dumpsters that can handle tons of concrete, metal and other construction rubbish.
Regardless of how much waste you have to get rid of, we can typically get your business or job site as many dumpsters as are necessary to handle the load. Contact our team at 800-658-3639 to fill us in on your needs and we will get you set up.
Call Today for a Free Price Quote
That's right ? we're happy to offer you a completely free, honest price quote just for calling in and letting us know what you need. Get in touch with our team at your convenience at 800-658-3639 or by filling in the quick form at the top right side of this page. Let us know how much waste you'll be throwing away and how long you'll need the dumpster, and we'll get you an estimate with some of the best pricing for roll off dumpster rental Ann Arbor has to offer!
Thanks again for taking the time to visit our website and for considering Reliable Dumpsters for your next dumpster rental. We look forward to it!